WELCOME TO CASTRIOTA CHEVROLET
Call Us today Sales: (727) 755-2180 Service: (727) 755-2206 
Hours& Directions - Click Here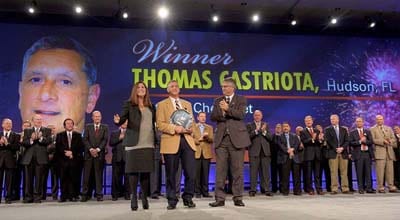 Castriota received this highest honor out of a select group of dealers from across the country recognized at the 94th annual National Automobile Dealers Association (NADA) Convention & Exposition in San Francisco on Saturday.
The TIME Dealer of the Year award is one of the automobile industry's most prestigious and highly coveted awards for new-car dealers. Recipients are among the nation's most successful auto dealers, but they must also demonstrate a long-standing commitment to effective community service.
In the area of community service, Castriota has a long and distinguished record of giving. As member, board member, past president and/or committee chair, Castriota has served or continues serve many charitable and not-for-profit organizations: the West Pasco Chamber of Commerce, Berkeley Preparatory School, the American Legion, the Marine Corps League, Bayonet Regional Medical Center, the United Way of Pasco, the Lighthouse for the Visually Impaired and Blind, Port Richey Rotary and the Trinity Rotary club (where he is a charter member), among others. He is a two-time recipient of Rotary International's Paul Harris Fellow Award, given "in appreciation of tangible and significant assistance given for the furtherance of better understanding and friendly relations among peoples of the world."
Much of Castriota's service has targeted education - such as his work with the Pasco Schools Education Foundation, Saint Leo University's government bond board, the University of South Florida's Stavros School of Education and the dealership staff's support of Pasco and Hernando county schools via the "Administrators in the Work Place" program; and training and guidance for the Marchman Technical Education Center.
With all that, it's no surprise the West Pasco Chamber of Commerce named Castriota its Business of the Year in 2000; and the Florida Secretary of Education awarded him the State of Florida's Education Business of the Year award for his commitment to education. "It's very humbling when you're honored by your peers," says Castriota. "I have never used my community efforts as a way to promote business; I have always felt that as a business owner, you have to give back to your community and your country.
2011 NADA CONVENTION, TIME DEALER OF THE YEAR